Dear Wake Forest Community,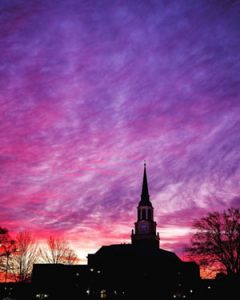 It is my great pleasure to introduce you to the 2021-2022 cohort of Wake Forest Fellows and inaugurate this space, which I have affectionately referred to as our Letters to a Young Deac blog. This blog will serve as a shared space where this year's cohort of curious and engaged recent graduates will learn and grow—both personally and professionally—as we reflect on our experiences at Mother So Dear. Inspired by Rainer Maria Rilke's Letters to a Young Poet, it is my hope that this space will reflect our deep commitment to Pro Humanitate and the transformative power of shared knowledge. One of the most appreciated and hard-won lessons I learned during my time as an undergrad is that we all have the responsibility to share what we learn from both our struggles and triumphs with the other members of our community. A cherished mentor once told me that life is not a competition, but it is an experience shared. Sharing knowledge, beauty, and joy is how we demonstrate our care for each other. Further, your education does not stop once you leave the classroom. Once you step outside, you have the unique opportunity to also become a teacher.
I chose to model this online space after Rilke's touchingly empathetic letters to Mr. Franz Kappus because of how their lived experiences and the advice that springs from those experiences parallels our own relationship as Fellows to the greater Wake Forest Community. Both Rilke and Mr. Kappus passed through the halls of the Theresian Military Academy in Wiener Neustadt and later traded a life of military service for a life in the arts. When Mr. Kappus writes to Rilke and asks him for career advice and a critique of his poetry, Rilke writes back "Nobody can advise you and help you. Nobody. There is only one way—go into yourself." What follows is a collection of 10 letters in which Rilke urges Mr. Kappus to trust his inner-judgment and explore the questions of how to live. Just like Rilke and Mr. Kappus, while we Fellows are trying to build our careers, we are also beginning to consider what it means to build a life and how to integrate the two in any worthwhile way.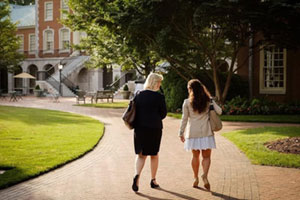 The Fellows are recent graduates who are now spending the year working as staff throughout the university. While none of us are military cadets turned poets—at least not in this cohort—like Rilke and Mr. Kappus, we know what it is like to journey through "Work Forest" and into the uncertainty of a postgraduate future. Like Mr. Kappus, however, none of us have to do it alone. While welcoming Dr. Susan R. Wente as our new president, the Fellows emphatically shared that the most special thing about Wake Forest is the people who call it home. I can very honestly say that my happiness and my success at Wake Forest is owed to the incredibly kind and generous mentors who took the time to pour into me. My enthusiastic colleagues would say the same. Now, we feel as though it is our turn to show how grateful we are to be a part of this community and for all the ways it has molded us. What is all the more special about sharing our experiences, reflections, and knowledge about Wake Forest's traditions is that by pouring into all of your cups, we are able to refill our own. The cup never runs dry. When you love something as much as we love Wake Forest, it is a great gift to play a part in helping the institution and the people here flourish.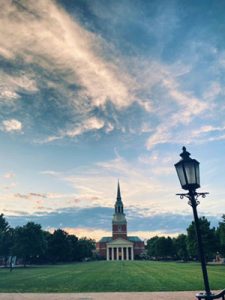 This past year and a half was more difficult than any of us could have ever imagined between the strain of a global pandemic and international urgency to realize the virtues of "liberty and justice for all." The uncertainty of this coming year may also give rise to difficult feelings of anxiety for some in our community. So many of us have suffered terrible losses. We were asked to make large sacrifices not just for the good of our university but ultimately for the good of our friends, family, fellow citizens, and humanity. We went into the last school year with the realization that our stay on campus was not guaranteed, but like artists we found ways to create meaning in a college experience that none of us asked for. As students prepare for their return to campus, the Fellows want to recognize that our successful ability to stay on campus last year was owed to the hard work and dedication of all university administrators, faculty, staff, students, alumni, and donors. As always, it takes a village. From the newest Deacs to the most senior, everyone played a part and it was truly an exercise of Pro Humanitate. There isn't a doubt in my mind that we can't once again come together for the common good as we begin this new year.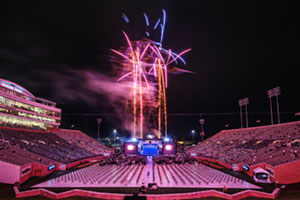 But there is also cause for celebration! As more and more people are doing their part to get vaccinated and the world appears to be opening up, Wake Forest is embracing another leader who is deeply principled and devoted to trust, transparency, and teamwork. As we come together to embrace Dr. Wente over this next school year, we will also be able to enjoy some long held, meaningful traditions that our older Deacs may be missing and our newest Deacs have yet to enjoy. The Fellows hope you will join us, whether for your first or 50th time, as we celebrate Pitsgiving and Lovefeast, Roll and Light the Quad, dance at Wake N'Shake or Hit the Bricks, and creatively imagine new traditions alongside Dr. Wente.
Demon Deacons old and new, those far away and those soon to return home, I am thrilled to introduce you to your new Fellows and create a space where you can experience Wake Forest University at its fullest as they transition from students to staff. We will be finding new ways over this coming year to engage with you both on-campus and virtually. You will be able to learn about those opportunities here and on our other social media pages. Please don't hesitate to reach out to us and let us know what you would like to hear about our experiences, what we are learning, or our favorite traditions. Consider this to be your space as much as it is ours.
With Affection for Our Community,
Mary Logan Costanza
Fellow, Office of the President