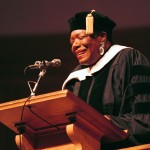 Maya Angelou once said, "I've learned that people will forget what you said, people will forget what you did, but people will never forget how you made them feel." Indeed, Dr. Angelou was a prolific author with generational talent. However, her message that people will only remember how you made them feel is revealing of the idea that she possibly could have felt that inspiring the next generation of great writers as a professor was more important to her than any page she ever wrote. One would be hard pressed to find an individual who remembers every lesson that they were taught in school, but almost everyone can remember the name of a teacher who impacted them in some way. Part of what makes Wake Forest a unique community is the teacher-scholar character of the community. At many other schools, the phrase is scholar-teacher, but Wake Forest emphasizes the importance of teaching in being a professor. This focus on teaching first has helped to foster relationships between professors and students where in some cases they become more than a standard professor, and can become a mentor or a personal hero.
This past week Wake Forest hosted New Faculty Orientation to welcome over 80 new faculty members to the Wake Forest Family. What makes this week so exciting is the realization that these professors do not yet know their students and their students do not yet know them, but as the summer turns to fall and the semester unfolds, these strangers will form close bonds forged within the classroom and during office hours. In a very real way, both students and faculty will make a deep impression on one another, in a possibly life changing way. So for the Office of the Dean of the College and the Office of the Provost, it was an honor to be able to welcome this new group of 80 plus inspiring role models to their new home.
The first day of New Faculty Orientation was hosted by the Office of the Provost and included faculty from all schools (Business, College, Divinity, Law, and ZSR). The day began with a welcome reception in the Porter Byrum Welcome Center, which included a continental breakfast, photos, and opening remarks. The first major event of the day was when the faculty were split into eight teams and sent on a scavenger hunt with clues to learn their way around campus, and meet colleagues situated in various offices throughout the University. Faculty were given tote bags containing items that welcomed them to Wake Forest and the Winston-Salem community, and the winners of the scavenger hunt won a copy of The History of Wake Forest as their prize.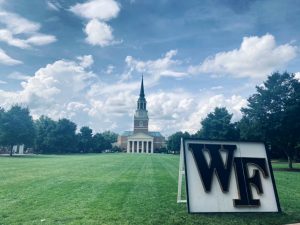 After the scavenger hunt, the Center for the Advancement of Teaching did a workshop on techniques new faculty can use in the classroom. Over lunch, Provost Kersh presented to the group about teaching this new generation of students. In the afternoon, ZSR Librarians provided a tour of the library and delivered a presentation of all of the ways they can work in coordination with professors as they plan out their courses, projects, and research throughout the semester. Following these events, the New Faculty heard from ten current faculty members in a panel discussion focused on tips for success.
Wake Forest has a strong sense of community, which cares deeply for every member. As the day unfolded, it became clear that the strength of the Wake Forest family resides in the relationships between professors. Throughout the day one could actually feel these professors who arrived as strangers begin to form relationships with one another, and by the end of the day they could be heard forming dinner or weekend plans as they boarded the shuttle to return to the Welcome Center.
The Office of the Dean of the College hosted New Faculty Orientation on Thursday and Friday for its faculty to share resources and advice to incoming faculty and faculty who were unable to attend New Faculty Orientation last year due to COVID-19 about what makes a good faculty member. We had a great opportunity this year for Wake Forest Fellows to share their undergraduate experiences with faculty in the hopes that the new faculty could take those positives and negatives and transform themselves into the professors Wake students need in order for them to succeed and feel supported. We sat at a table with about seven other faculty members, gave a short intro about ourselves, along with a piece of advice, and answered questions that the faculty members might have before moving onto another table, talking to three tables each. I was asked a lot of questions, some about myself and some about other students' experiences, but there were a few that really stuck out to me.
My favorite question that I was asked was what made a faculty member approachable for a student in need of assistance, either with classwork or personal problems. That was difficult for me to answer, because I hadn't gone to many professors when I was struggling, and that made me wonder "well, why not?" It's easy to see a professor for 50 minutes, three times a week, and never have a conversation with them outside of class. Zoom made it especially hard to make connections with professors, for when the Zoom call ended so did any opportunity to ask small questions that create the impactful professor-student relationships Wake Forest so deeply values. For me, the professors I felt safe approaching were the ones who weren't afraid to share about their own personal struggles or funny short stories about their week. It was humanizing to hear a professor talk about driving his daughter to ballet lessons or complain about their dog that had made them late that afternoon.
It's also important to know that connections go both ways. While it's important for faculty members to make themselves approachable to students, it's also important for students to take those opportunities to get to know them better. I was very intimidated by professors, especially since Wake Forest faculty members are well-accomplished in the academic realm. Speaking to such accomplished people seems daunting, as if anything you could say they've already heard. But that's the fun part; they haven't heard it all. They may have gotten their PhD in that subject, but students bring in a fresh pair of eyes and insight that professors really value. I've never felt inadequate by bringing up a point that I viewed differently, and the connections I've made with those professors who I dared to speak to really helped me succeed, both inside and outside the classroom.
After spending a week meeting the 2021-2022 class of Wake Forest Faculty, many of the Wake Forest Fellows shared the feeling that they wish they could return to being students so that they could take classes or work with some of the faculty they had met. To the class 2021-2022 class of Wake Forest Faculty, and on behalf of the Wake Forest Fellows, it was an honor to welcome you to the Forest, and we look forward to all that you will accomplish and seeing the lives that you will change.
Sincerely,
Bruce Haywood, Office of the Provost
Marie Guy, Office of the Dean of the College